Recently Andy Lau who is always heavily involved in charity works is raising funds for Benji's Centre, seizing this Saturday's upcoming Valentines' Day, he had collaborate with Leonidas chocolate to release 1,000 boxes of lovers packaging chocolates retailing at $HK320, all earnings will goes to Benji's Centre.
Andy met up with the speech impaired children at Gateway Hotel as he accompanied them to learn how to speak as he show off his father charisma to the children as he played and learn how to speak with the children.
It was Andy's first encounter with speech impaired children, he understand that for some of the speech impaired children are suffering from autism thus lack of communication with people. Andy knows that the government is taking care of speech impaired children from 1-8 years old, most of them from low income families, they had to wait for one year. Currently Benji's Centre is helping 120 children with 1:1 staff.
Andy whom seldom revealed his family life was asked when would he would have his own children, he said: "Currently I'm always been asked this question? I've promise everybody, I'll try to make it quick!" Andy who is always very busy when asked when will he actually go about doing it, he said: "At night, I need to do charity in the morning." Andy revealed that he know how to handle children, he says: "I'm very smart, there are many children within the fan club."
Actually there are also speech impaired children in his fan club, Andy says: "I always find ways to communicate with them, today I learn from the instructor, I roughly know that how the children would try to pronounce the words, that will help me understand what the children is trying to say."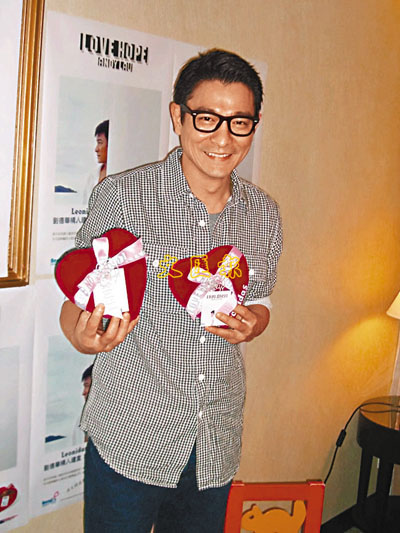 Andy also feel that the area of Benji's Centre premise is not adequate as he hope it can be changed, he says: "The school premise is too small, initially we wanted you (reporters) to take a look, but it's too small, as Justice of the Peace I hope that when I go suggest and the government would approve and give them a bigger space."
news from: Apple Daily News, Ming Pao, Wei Wen Po, Ta Kung Po, Headline Daily