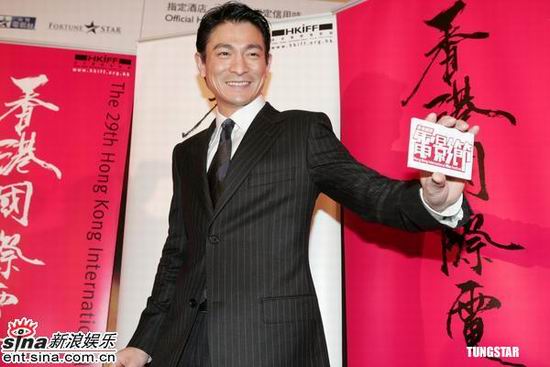 Hosted by the Hong Kong International Film Festival Society and sponsored by Sony Corporation of Hong Kong Limited, this highly anticipated annual entertainment event will be held from March 22 to April 6. This year's festival features 240 films from 41 different countries and regions. There are 338 shows scheduled during the 16-day film festival, and the selection of films from different cultural origins will most certainly satisfy audiences with a variety of tastes and demands.
This year, we are proud to have Christopher Doyle as our poster art director. The featured poster image was captured at the Cannes Film Festival by Christopher Doyle - a red carpet image showing his intense emotions and enthusiasm at that event. Beginning on March 22, HKIFF will have a series of promotional events at the Hong Kong Cultural Centre, and "red carpet" will be the centre of the focus and excitement.
The 29th HKIFF will have a series of events to celebrate. The year 2005 is also the 100th anniversary of Chinese filmmaking, and HKIFF will kick off the celebration by showing the 2005 digitally remastered version of the classic "Centre Stage", and we have invited lead actress Maggie Cheung, director Stanley Kwan and cast to mark the beginning of the opening ceremony.
With the advent of advanced technology, films can now be fully restored digitally, giving crystal clear picture quality and fresh new audio tracks that will lend a new cinematic experience to audiences of these classics.
The 29th HKIFF will also bring you a brand new experience - the largest air-screen for outdoor screenings ever in Asia!
Moreover, Andy Lau is the "Actor in Focus" of this year's HKIFF. Through 11 films that have been chosen from his filmography, we can peer into the marvelous spectrum of his acting and entertainment career. Andy Lau speaks of his participation: "It provides a chance for me to share my career insight, from the past to the present, through different screenings and words in this festival. The audience can also can experience my real self, so that I can say what I want and share my true experiences. I'm very proud to have a programme within the film festival."
Andy shows his support to this special event by presenting his well-known calligraphy skills. Banners with his artistic brushwork will be on display in different regions throughout the city. At the same time, HKIFF will be distributing a special publication of Andy's past personal interviews, analytical essays and filmography, which is essential to understanding, in detail, his development within the entertainment industry.
Banner locations and dates:
7-shape banners (2 versions):Date: 24/2/2005 - 7/4/2005
Place: Salisbury Road pedestrian railings (from Chatham Road South to Star Ferry) and Canton Road pedestrian railings (from Salisbury Road to the Gateway)
Lamp pole banners (1 version):Date: 24/2/2005 - 7/4/2005
Place: Island East, Island Central & West, Kowloon West Online and postal booking will start on 26 February, and counter booking will start on 17 March.
Press Inquiries : Pauly Lok
Contact Number : 2102 7380
Email Address :
pauly_lok@hkiff.org.hk
news from:
http://www.hkiff.org.hk/hkiff29/