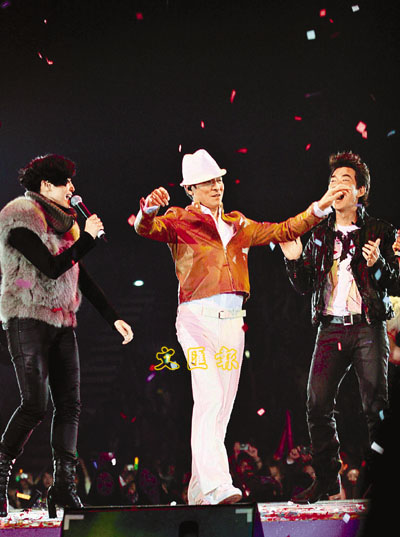 East Asia All-Artiste concert completed successfully at AsiaWorld-Expo two nights ago. Andy Lau whom just completed his Singapore concerts joined up with Sammi Cheng, Andy Hui, Richie Ren, Bosco Wong, Denise Ho, Miriam Yeung, Wilfred Lau and Ivana Wong.
Andy was the final performer for the concert. Andy recalled that his one and only album released by Capital Artiste only managed to sell 486 copies, he said he said that those fans whom bought that particular album are among the audience.
He said: "When talked about Capital Artiste, I only released one album under the label, it only managed to sell 486 copies, I'm very sure that the 486 friends are here tonight."
He also imitate Leslie Cheung singing style to sing 'Wei Ni Zhong Qin' to win applause from the fans. He actually sang the song before Leslie, but he was in cold storage by Capital Artiste thus his version is never released.
During the post-concert celebration dinner, when asked about Carol Zhu Liqian went to support him at his Singapore concert, Andy only: "Hee! hee! hee!", then he expressed that he would not be answering the question. When asked about the little girl that Carol brought along, Andy still gave the same answer by saying: "I will not answer. (So did Carol went to support you?) I don't know, I concentrate on performing. (Who is that little girl?) I don't know, I didn't read the newspaper reports. (If you don't answer will it make people guessing?) If I said anything, people will guess even more." He then tried to round up the topic by saying: "I have said a lot already, I will discuss this matter with you when we have the chance to meet in private?"
Andy then tries to change topic as he expressed that he will be jetting off to America, shoot commercials and continue his shooting in Beijing, he would only return to Hong Kong during the Chinese New Year holidays.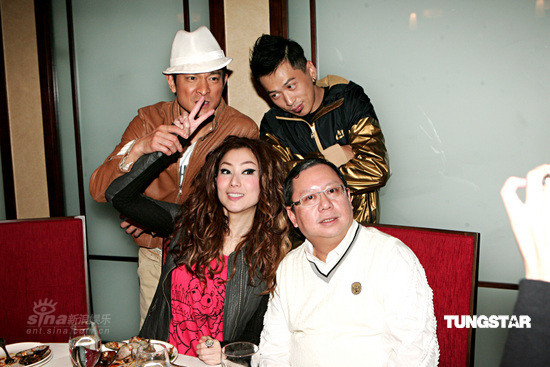 Andy also mentioned that he had yet released an album under East Asia, thus he discussed of collaboration with Sammi whom is in the same label.
news from: Wei Wen Po, Ta Kung Po, Sing Tao News, Ming Pao, HK Headlines, Sing Pao, Apple Daily News, Apple Action News, ent.163.com, sina.com