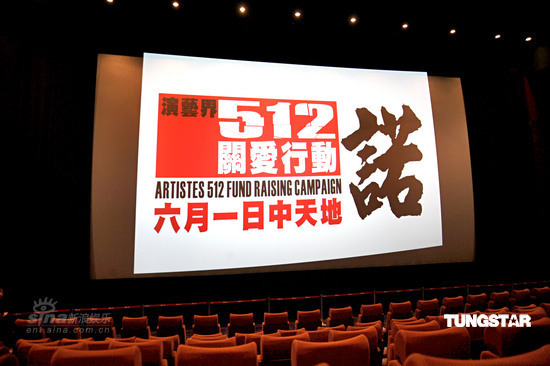 The aftermath of the Sichuan earthquake had shook the world, within a short period of one week, the showbiz circle had gathered their strength to form the Showbiz 512 Love Concern action group, as they held a press conference at The Grand Cinema yesterday to announce that a charity concert will be held at POPTV ARENA on 1 June where TVB, ATV, i-Cable, East Asia, Gold Label, EMG, people from the Cantonese Opera, representatives from Hong Kong Repertory Theatre, close to 200 artistes were present to show their support.
Those whom attended includes Eric Tsang, Gordon Chan, Andy Lau, Sammi Cheng, Andrew Lau, Ng See-Yuen, Joe Cheung Tung-Cho, Feng Xiaogang, Zhang Gouli, Richie Ren, Cheung Siu-Yin, Cheung Po Wah, Leo Ku, Ronald Cheng, Edmond Leung, Hins Cheung, Kenny Kwan, Yumiko Cheng, Vinginia Lok, Mani Lei, Patrick Lam, Chan Kai Tai Kenneth, Joey Meng Yee Man.
Meanwhile, Andy Lau and Sammi Cheng will be visiting the "dangerous" Sichuan earthquake site at the end of the month. Sammi exclaimed: "The more dangerous, the more I wanted to go!"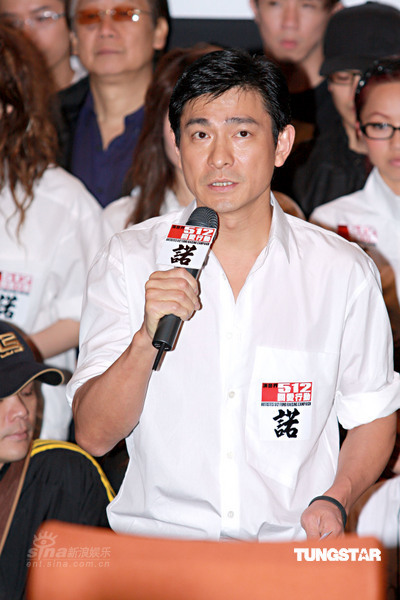 At the press conference, Andy whom was responsible for gathering people thanks everybody's support and doing their part for charity, he sighed and took a deep breath before saying: "I hope it's not just for a short period, because rebuilding would require 3,5 or 7 years, it would be more concern for the future days, this is our promise."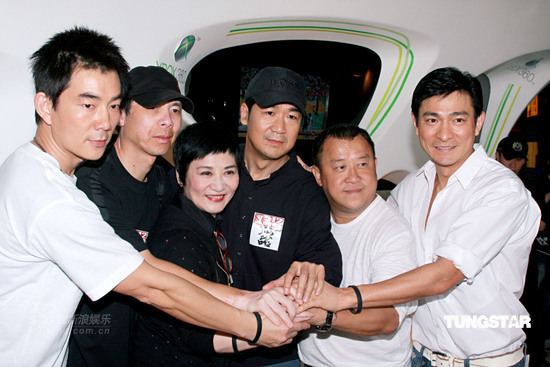 The spokesman for the Showbiz 512 Love Concern action group Cheung Po Wah said that on a "Everyone Promise" event will be held in major shopping malls on 25 May to collect all regards cards from the citizens in order to pass to the visitors of the earthquake site to pass the message.
On 1 June, a charity concert will be held at POPTV ARENA which could accommodate 20,000 audience, the event will start at 2:30pm till 10:00pm, every audience would require to donate at least HK$20.
Gordon Chan expressed that the list of performers will be confirmed on 26 May, he welcome all parties to register, as the venue is not suitable for any charity auction for the branded donated items, thus an auction will be held another day. Gordon said: "We're focusing on raising funds for the victims, when Andy suggested 7 years, we'll do it for 7 years!"
In the end, Andy said: "Within a short time, people in showbiz had gathered together and all work hard together. Although I could not represent they. But representing myself to thanks everyone! Hope heaven bless Sichuan and China" as a summary for the press conference.
Andy revealed that personally going to the earthquake site and witnessing the damage personally, he might not be able to accept it mentally thus he is currently undergoing professional mental consulting training as he wanted to learn the correct attitude to face the victims his ability of acceptance.
The main visiting targets are the children, he would also bring along dried food there. His fans had already join the volunteer groups there and had reported him with the latest news.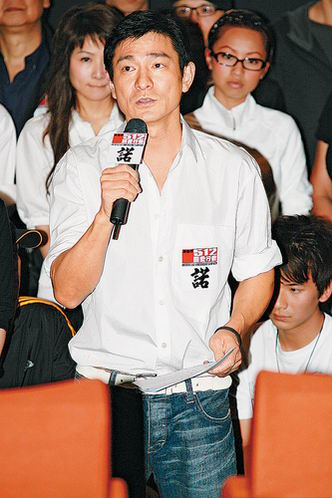 His family also has no objection of his visit to the site and there is no reason that they will object his visit. With the visit last than a week to go, Andy was asked if he took any vaccine, he said that there is already vaccine station in Sichuan thus it would be any problem.
When asked if he's worried about encountering tremors and added the responsibility of the government? Andy said: "There shall not be any trouble, we had contacted the Liaison Office of the Central People's Government in the Hong Kong S.A.R., we know its suitable thus we're going there. I never thought of where to stay, I'll stay everywhere they allocate me."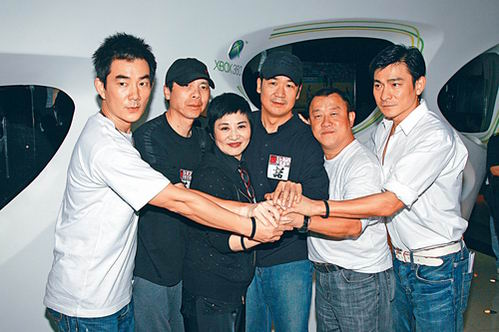 He expressed that Liaison Office of the Central People's Government in the Hong Kong S.A.R. had approve license to the guild to form a charity fund, Alan Tam, Eric Tsang and Gordon Chan are the committeeman, hoping to aid the orphans, provide education and rebuilding their homeland.
When asked if the visiting fees will be used from the charity funds, Andy said: "I think not! If it's from the charity fund, I rather it's from my own pockets."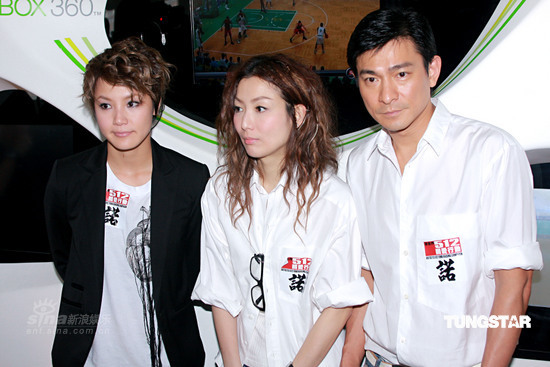 On 27 May, Denise Ho will go to the site with Oxfam Hong Kong before joining Andy and Sammi on 28 May, it's estimated to stay there for 5 days.
news from: Ming Pao, Apple Daily News, SingTao News, SingPao, Wei Wen Po, Sina.com, Ta Kung Po