To raise fund for the Sichuan earthquake victims, more than 400 artistes from Mainland China, Hong Kong and Taiwan, 1,400 volunteer workers gathered at Pop TV Arena yesterday for a 8-hours long marathon fund raising event Artistes 512 Fund Raising Campaign (Showbiz 512 Concern Love Action ).
All artistes used their action to promise their long term support for the victims as they used love to show support for their fellow countrymen, a total of $34,984,458 were raised. At the end of the event, the song Promise was sang, Andy Lau whom was one of the artist tasked to gather the artistes bow to thanks the artistes' support.
Artistes 512 Fund Raising Campaign started at 2:00 pm and ended at 10:00pm, more than 20,000 audience attended and most of them wore yellow wrist band. There was worries of poor weather but during the duration of the event, it did not rain thus the event was carried out successfully. All artistes whom were wearing the black T-shirt gathered at 2:00pm, the event start at 2:28pm, exactly the same time that the earthquake hit Wenchuan.
For the first time, all TV stations broke their barrier as TVB, ATV and other stations sent out their representatives to host the event, they also telecast the event simultaneously. As the program will also be telecast in Asian , United States and European areas, all artistes gathered on the stage to urge for donations for the second time.
The performing artistes came from Mainland China, Hong Kong and Taiwan. Hong Kong artistes includes Andy Lau, Sammi Cheng, Jacky Cheung, Leon Lai, Shu Qi, Alan Tam, Joey Yung, Carol Zheng, Nat Chan, Michelle Reis, Stephen Chow, Carina Lau, Tony Leung Chiu Wai, Jackie Chan and Eric Tsang; even old timers Sam Hui, Jing Ting and Hua Wa also came to support the event.
Other performing groups includes Wai Yin Association and Hong Kong Federation of Drama Societies. Representing Mainland China are Zhou Xun, Zhang Guoli, Sun Nan and Hu Jun. Meanwhile Jay Chou, Sylvia Chang, Mike He, Jeff Chang, Lin Zhiling, Chang Hui-mei, ASOS, Su Rei, Cai Qin, Sky Wu, Harlem Yu, Rene Liu and Valen Hsu. During the event, several artistes kept repeating the same phrase: "The earthquake will not shattered our spirit, whereas it uphold the true love within us," to represent their promise to the victims.
On the event, you got to see unusual duet of singers, Jacky Cheung and Chang Hui-mei duet 'Zhu Fu'; Harlem Yu, Su Rei and Sky Wu duet 'Feng Xian'; Andy Lau and Sammi Cheng duet 'Yue Liang Dai Piao Wo De Xin'; Richie Ren, Su Rei, Sky Wu, Rene Liu, Jeff Chang, Sun Nan, Valen Hsu, Huang Lei and Harlem Yu duet 'Min Tian Hui Geng Hao'.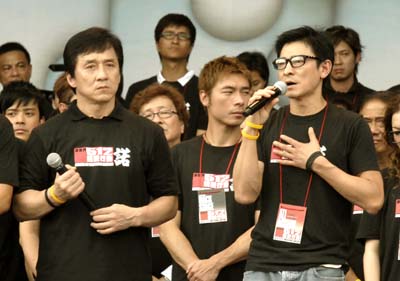 When interviewed, Andy talked about his site visit as he expressed that he feel that the re-building works had been fast and the victims' mentality had been stabilized, he feel that the images been seen on TV are so sad which cannot be accepted. When asked if he's delighted of the fund raising event? Andy said that upon seeing the artistes from Mainland China, Hong Kong and Taiwan doing their best, he really wanted to thanks all of them which show that showbiz is not a patch of sand, hope that the victims can feel their efforts.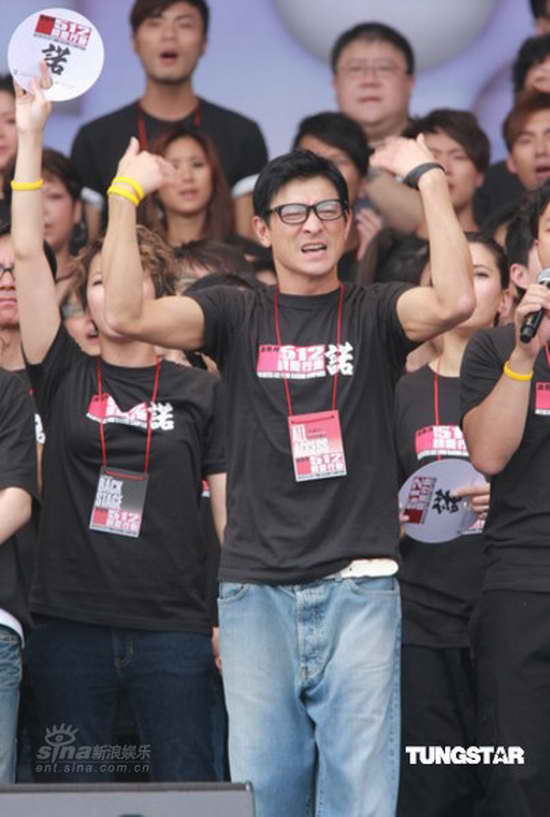 Andy exclaimed that by inviting disabled performers, he hope the victims can bravely continue their own life, all the tough images had been seen, it's time now to face it in a positive way. He pointed out that the 6 main organizations had began plans of rebuilding, whatever he could do he would try to do his part.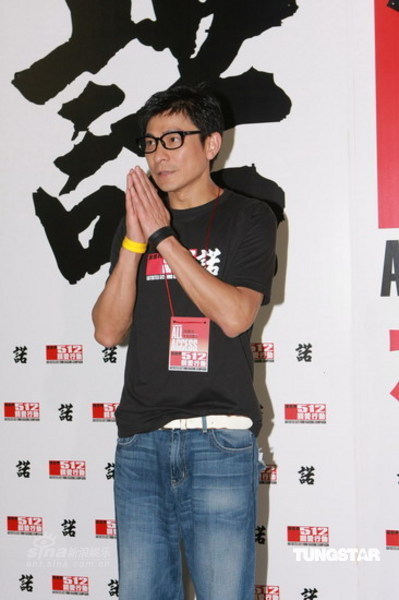 At the end of the event, it managed to raised $34,984,458. Andy whom was one of the artist that gathered the artistes express that he's delighted to be able to raise so much money, no targeted amount was set and he does not like to give people the feeling that he's always asking people to donate money, he feel the the amount raised is not an issue as most importantly is to bring to the victims a strong message and belief in rebuilding their homeland. Andy also wanted to thanks all people that had donated money.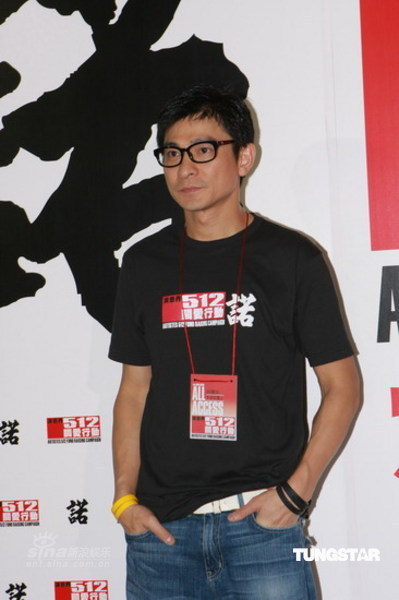 news from: Apple Daily News, SingTao News, Wei Wen Po, Ming Pao, Sing Pao, HK Headlines, Ta Kung Po, Sina.com