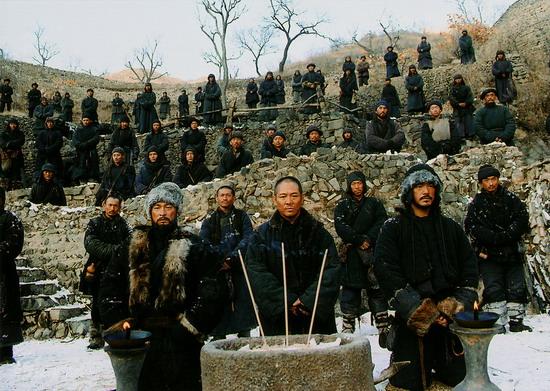 Warlords which was directed by Peter Chan, starring Andy Lau, Jet Li and Takeshi Kaneshiro will open in the cinemas during December's Christmas holidays. Just 4 months away from screening, the post production had already come to an end. Initially the movie company wanted the movie to participate in Venice International Film Festival and Pusan International Film Festival, however Peter does not want to rush through the post production in order to join the film festivals, thus this suggestion was rejected.
It was known that the basic editing had been completed, now they are doing the details adjustments, however Peter is having an headache on the actors' screen appearances. He once expressed that the 3 actors are Asia's top notch actors, they should have equal screen time, but it should depend on the script, the script does not allow the 3 of them to be divided with equal screen time, thus this result to Peter's headache.
With regards to allegations that Andy get into an arguement with Peter during the shooting set when his scenes were reduced, Peter refuse to answer these non-relevant allegations. Whereas to allegation that he added scenes for his favorite Takeshi, Peter also refused to answer.
Media Asia spokesman expressed that everybody know that Jet had the highest popularity internationally among the 3 actors, Andy has box office guarantee in Mainland China and Hong Kong, while Takeshi become Peter's favorite since their collaboration in Perhaps Love, thus 3 actors has their own advantage, for any of them to take the main stage in this movie, the movie company would not question it, as everything would be decided by the director, because the company would not like to see anyone get angry from this matter.
news from: Ming Pao, Wei Wen Po, Sina.com