The Warlords which had break the $10 million box office barrier within 7 days of screening in Hong Kong had collected a total of $150 million throughout Asia, thus the movie company specially held a celebration dinner at Central's Ritz-Carlton Hotel. Media Asia's boss Peter Lam, The Warlords executive producer Andrew Morgan, main leads Andy Lau, Jet Li and Jacky Heung attended the event as they opened champagne to celebrate the occasion.
Jet whom had just returned from a promotional trip of the movie from Taiwan told the media that the local media had a high critics of the movie, he said: "Many Taiwanese audience are familiar with Chinese history, after watching they were so touched and wanted to cry." When asked about his Hollywood films doing normal in box office takings whereas the impressive box office takings of The Warlords, Jet thinks that it does not matter as he feel that after more than 10 years. most importantly is to do well his part as an actor. When talked about the box office collections, he said: "I don't care about this, as long as the director and boss are happy will do." When told that the movie company had intention of shooting a prequel, Jet expressed that he had not hear about it as he was busy with his charity works and would not have time to take up the offer, he quipped: "I don't think so, so fast, not sincere enough..."
Jet revealed that director Peter Chan allowed him to pick which character, he pointed out that Andy's character Zhao Er-hu only has minimal martial arts, thus he picked the more highly martial arts skilled Pang Qing-yun thus Andy picked Er-hu, Peter even sing praised of Andy taking up a supporting role and he did very well.
Being the producer of The Warlords, Andrew Morgan was very satisfied with the film's box office takings but he didn't replied with regards of intention of shooting a prequel as everything need to be discussed after the film is screened in European countries, he said: "It's already December now, it would be 2009 the earliest to start shooting, because it would be March or April 2008 before we can come out with a script and looking into who to cast, we used 18 months to prepared The Warlords." Due to the success of The Warlords, Morgan revealed that his next film would also based on war, Asian movies will always be directed by an Asian director, no foreign directors will be considered.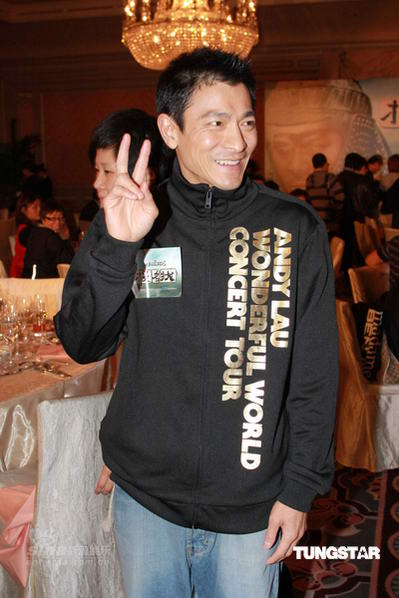 Meanwhile for the prequel of The Warlords, other than the current 3 male leads, Jay Chou and Huang Xiaoming are considered to be casted.
Although Andy attended the celebration dinner but he did not accepted any interviews as he left after staying for 20 minutes. He was asked by reporters before he made an exit, he said: "I'm rushing off for my concert's rehearsal, I don't have time for interviews."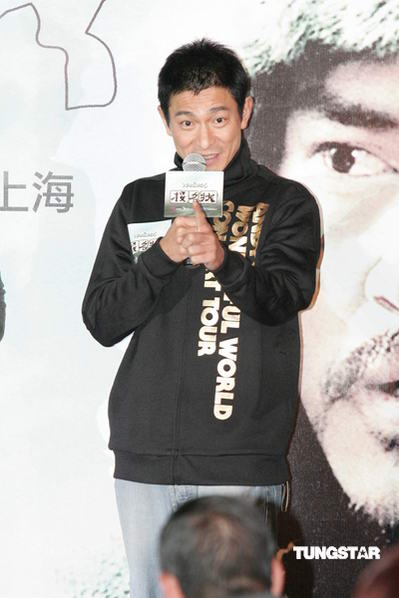 For this year's RTHK music awards, its producer James Fung Wai Tong did not reveal the nominees for this year's Golden Needle award but exclaimed that many are eligible for the award which includes Cheung Yiu Wing, Francis Yip and Sally Yeah. However he did revealed that a few years ago RTHK tried to present the Golden Needle award to Andy Lau and Kwan Ching Kit, but Andy used the reason of "still hardworking in the music industry" to reject the award whereas Kwan refuse to slim down just for coming back to Hong Kong to collect the award.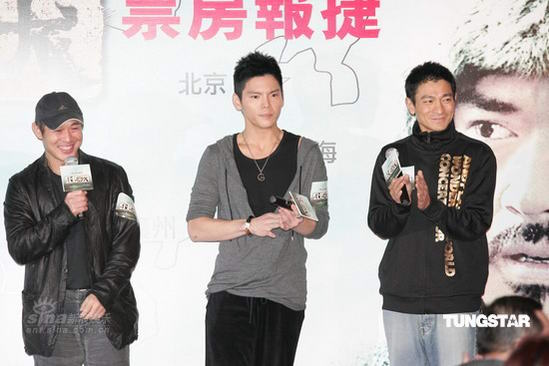 news from: Wei Wen Po, SingTao News, Ming Pao, Apple Daily News, Sina.com