With Maggie Q excused herself from promotion and Sumo Hung not feeling well, director Daniel Lee, Andy Lau, Di Lung and Andy On attended the premiere of Three Kingdom - Resurrection of the Dragon at Elements in Hong Kong.
Several celebrities were present to show their support which includes Anne Heung, the whole family of Michelle, Theresa Fu and Freeze.
Despite only Andy to support the whole event, the response is good as there was also close to 100 Andy's fans present as they wave their flags and shouted out loud for their idol.
Andy who had completed his concerts and a month of rest, when asked when would he start work again? Andy said that the fastest would be the shooting of Andrew Lau directed love story comedy which alleged to be a collaboration with Shu Qi.
When asked if he initially said that he will be taking more than 6 months of rest, he said: "This is not what I meant, it's been tough shooting Three Kingdom - Resurrection of the Dragon, the character is too heavy due to the extended time shooting under sandstorm, I need at least 2 months of facial to return my original skin condition, I looked old is ok, but I'm afraid that when reporters took photograph of me and write that I looked old. Haha!"
Andy added: "At the moment I would not be accepting any more period projects only. Actually I always wanted to be involved in some romantic and relaxing projects."
He continued: "A Battle of Wits is doing very well in Japan, the Japanese whom invested in Battle of Wits are planning to shoot a film based on a manga of Zheng Cheng Gong in June as they approached me as they wanted to cast me as a soldier under Zhao Zilong, I requested they postpone the shooting to start in June 2009 in order for me to have a good rest."
When talked about acting Zhao Zilong from young to old in Three Kingdom - Resurrection of the Dragon, Andy said that he had no chance of being casted in the sequel (if any), he said: "Unless it's like A Fighter's Blues where there is Star Runner, the prequel of A Fighter's Blues but I'm also not cast in the movie."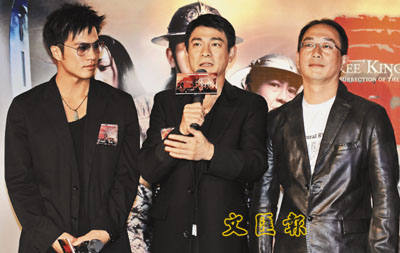 When talked about Maggie Q's absence, Andy exclaimed: "There's nothing we can do with the babe missing, she worked very hard and do very well for this movie." When asked of his future plans, Andy exclaimed that he hope to be cast in an artistic movie but he said: "Nobody approached me!"
news from: Ming Pao, Sing Tao News, Apple Daily News, Sina.com, Sing Pao, Ta Kung Po, ent.163.com
Kung Fu Dunk (DVD + Poster + Cap + Tee) (Hong Kong Version) @ US$79.99 only