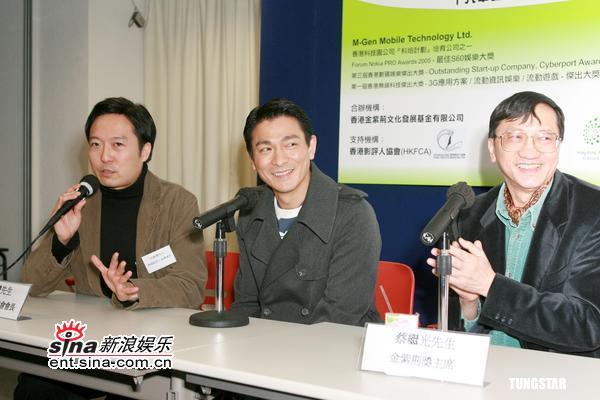 Golden Bauhinia Cultural Development Foundation Limited held a Chinese Movies' New Direction seminar at Kowloon Tong's I nnovation Centre yesterday and also announced the results of 11th Golden Bauhinia Award's Top 10 Chinese and Foreign movies.
Golden Bauhinia Cultural Development Foundation Limited chairman Choi Kai Kwong, Hong Kong Film Critics Association chairman Ho Wai-fung, director Pang Ho Cheung, Andy Lau and Chapman To attended the seminar which attracted more than 100 reporters to report on the event.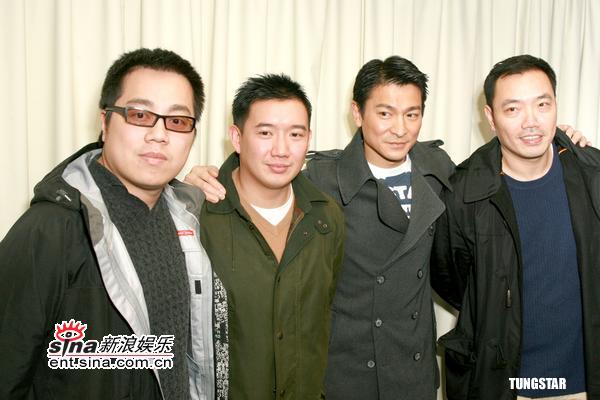 The Top 10 Chinese Movies of this year's Golden Bauhinia Awards was announced and Andy Lau's Wait 'Til You're Older is the number 1 movie for the online voting with a total of 13,288 votes, whereas his All About Love came in eighth with 1,902 votes, Wait 'Til You're Older is also selected by the organisers' judging panel as one of the top 10 chinese movies.
Andy express that he was told of his win the previous night out of a sudden. Ho Wai-fung quipped that as too many fans went online to vote resulting the server showing signs of going down several times. Andy then proudly quipped: "I'm asking you if it's dead?"
Before Andy filmed All About Love and Wait 'Til You're Older, he had watch two Japanese movie in Crying Out Love in the Center of the World and Be With You which gave him a big indication. Andy quipped: "All About Love is a genre of movie that I wanted to shoot, whereas I add in many elements into Wait 'Til you're Older, the feeling is fresh, with the good box office result, I'm delighted, maybe people think that it's better and different from my previous movies."
Andy is delighted that 2 of his movies of different genres managed to get into the Top 10 Chinese movies, other than acting in movies, he'll also invest in movies when asked about his thinking of movies, he express that all scripts should include the local and international culture as he anticipate that Hong Kong movies can venture internationally. He added that in these 20 years, there would be people spending money to invest on him thus allowing him to stay in the movie industry till now, he hope that the newcomers would also given this chance and also give them time, just like himself. He says: "I do not know what the industry begin to accept me and kept investing on me, actually for a talented actor and director, not only me, I need support in terms of time, thus we should create the same atmosphere for them, they can be a genius tomorrow, but we can't just wipe them off."
Andy was asked if he went online to recommend movies? Andy immediately express that he recently recommend Academy Awards Best Picture - Crash as he quipped: "I shall not talk about this at this moment, I should have supported Lee Ang, however I feel that although Brokeback Mountain losing out to Crash, but they are 2 different type of movies."
Chapman To whom recently complained that many bosses does not dare to invest in new movies, Andy thinks that it's not the responsibility of the bosses but rather those people whom had studied and feel of the market should take the responsibility, but he understand that many listed companies need to take care of the market, unlike his company which is not listed thus has no restriction. He quipped: "I could be silly at times, if it turns out not that good, I'll take it on myself."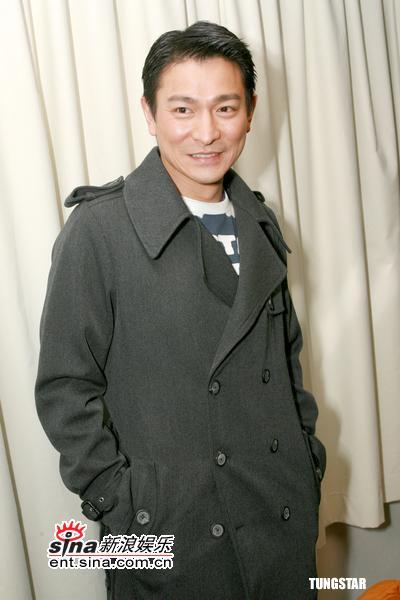 In addition, Andy also denied that he'll be holding a concert in August as he says: "I'll release my new album in August, I will only held concert every 2 years, if it's too close, the concert would not be much difference, if I'm going to hold a concert, maybe I'll perform magic as life is like magic, changes cannot be forecast."
Choi Kai Kwong express that this year's Golden Bauhinia Awards presentation ceremony will be held in July instead and the nomination list will be announced in the end of May as this online voting results is an independent award.
news from: Sina.com, Ta Kung Po, Wei Wen Po, Ming Pao, SingPao, Oriental Daily News