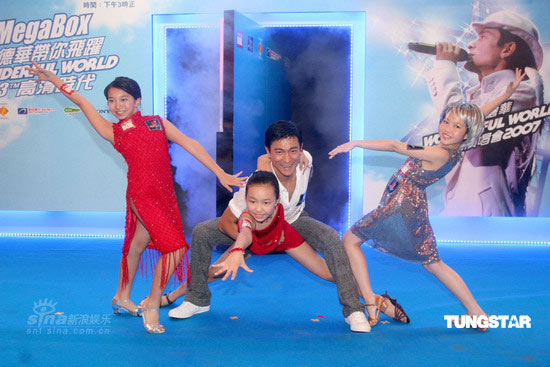 Andy Lau brought along his "children" Andox and Blackie to attend Andy Lau Wonderful World Hong Kong concert 2007 Blu-ray disc's autograph session - Andy Lau Bring You Fly Over Wonderful World PS HD Era at Kowloon MegaBox. It attract hundreds of fans and onlookers which jam packed the mall.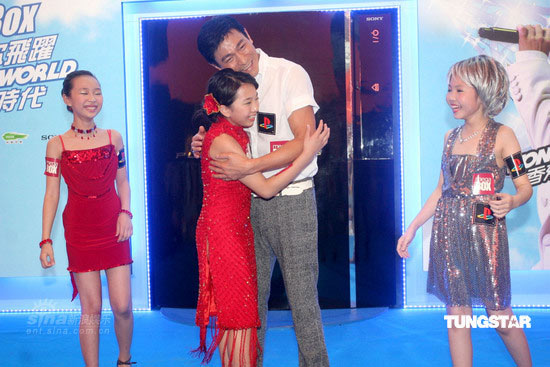 When Andy appeared on the stage, he had a Latin dance with three three-years-old girls which stirred up the atmosphere. He also danced with his children which everyone present burst into laughters.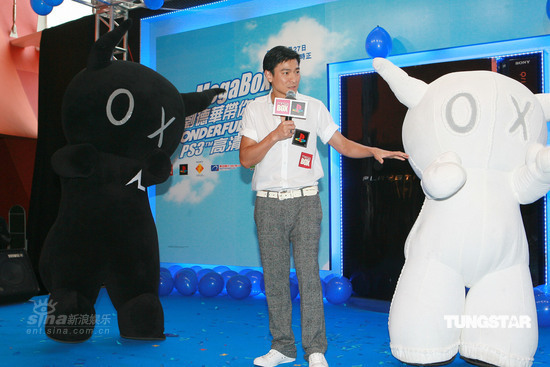 When the disc is released for one day, the sales record had broke the sales record of all Blu-ray disc, Andy is very encouraged by the sales record.
Andy quipped: "Actually this technology is very new, if you want to watch the disc you would need to purchase a Blu-ray player, thus I'm rather reserved when releasing the disc, I never expected it would have such good sales record."
When asked about his concert released in High Definition (HD) format, in other words revealing every flaws (if any), but Andy is very confident of himself as he think HD would not create any pressure, he said: "I'm already drenched in sweat for the opening of the concert, after singing for 3 songs, all my makeup had been washed away, it's close to seeing me bare, this effect is greater.
Actually before shooting All About Love, he did went to Thailand to learn HD makeup and the film itself was also shot in HD format, but he failed to master thus he didn't apply it and rather do facial 45 minutes or one hour before appearing before the cameras. I know that I could not apply too thick makeup, I had facial quite frequently thus my skin is not that bad."
The names for the Olympic Games torch bearer had been revealed yesterday and with his name on the list, Andy expressed that he was not notified. He feel honor to be given this task without being nominated by any sponsors as he had been jogging, his stamina would not be a problem. He exclaimed: "If you asked me to run 800 meters, it could be some difficulties, 200 meters would not be a problem as I've the habit of jogging, I would try to jog more often these few days."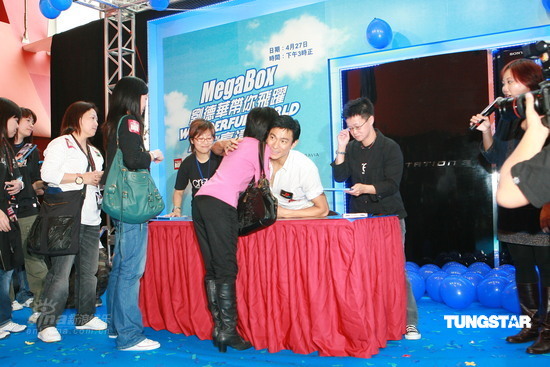 He added that he would follow the instructions to face this event in a serious attitude and run at the speed stated by the committee, he's most delighted that he's able to keep the torch as he said: "Of course I'll keep it in my home." When asked if he's worried that he would encounter strike during the torch bearing ceremony, Andy said: "I do not know, the government should have done all security measures, I will not think about it."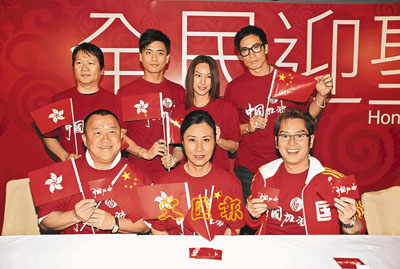 Meanwhile, several celebrities which include Liza Wong, Alan Tam, Eric Tsang, Kate Tsui, Moses Chan Ho and Bosco Wong Chung Chak attended the torch bearer press conference as they all wore the red color T-shirt bearing the "Cheer on China" calligraphy written by Andy.
It's alleged that Andy will be marrying his girlfriend Carol Zhu Liqan of 23 years; his good friend Kent Tong revealed that he and Carol had been together all these years and if they were to get married it would be a good result, Kent also prove that Andy has no children and urge him to get married to have children soon in an interview in Mainland China. Andy seems prepared when asked of this question as he burst into laughters when he heard the names of Kent. When the reporters finished their question, Andy answered: "I should urge him to speak lesser. I had said a few days earlier, I would not like to discuss about this matter, if you want to ask, go ask Michael Miu and Kent Tong." Are you angry of Kent? Andy said: "I will take to his with regards to this matter in private."
news from: Ming Pao, Apple Daily News, SingTao News, Wei Wen Po, Ta Kung Po, Sina.com