UA Cinemas held its 20 years anniversary and Blockbuster Awards 1985-2005 at UA Cityplaza, the organiser invited Dr Patrick Ho (Secretary for Home Affairs, Hong Kong Special Administrative Region) and Hon. Timothy Fok Tsun-ting (Member of Legislative Council) as their prize presenters.
The awards that were presented includes 1985-2005 Top 10 Box-Office Movies, Actor, Actress and Director. The artistes that attended includes Andy Lau, Sandra Ng, Ekin Cheng, Gigi Leung, Simon Yam, Peter Lam and Lam Shiu Ming.
On regarding to him topping the box-office male actor, a delighted Andy expressed: "For the past 20 years, every of my movies would at least collected $20,000 - $40,000, hope that I could exceed this figure in the future. (Will you increase your fee?) I've already added, but I could increase again after winning this award. (Which movie satisfy you the most?) Love On a Diet."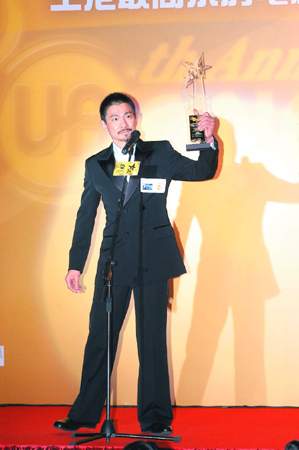 After Sandra had finished her winning speech and walk down the stage, Andy and Simon immediately went forward to the alleged pregnant Sandra, however she missed her step at the last flight of stairs, those present were shocked. The compere then quipped to Andy: "You better hold her properly, Peter Chan is not here, anything happen will be your responsibility."
Metro Radio's Hits Awards 2005 will be held on Christmas Day, 4 awards which includes My Most Admired Male Singer, Female Singer, Pop Group and Hit Song award will be decided by votes on that night. At the press conference yesterday, Andy was announced to be in the top 5 lists, he also pick his winner for each award.
Andy was rather undecided whom to pick as winner as he asked the fans and reporters present to give him opinions. In the end, he pick Kelly Chen for the female singer award. For the male singer, Andy asked everybody if they had problems with "Andy Lau"? When everybody had no objections, he quipped: "Rightfully winner!" He picked Grasshopper for the pop group award but when it comes to the best hit song award, he chose not to pick a winner as he feel that every nominated song is nice.
Measnwhile, Andy was announced to be leading for the World Hit Singer award and he was leading the second spot by some 30% of more votes.
It was said that Andy was experiencing double happiness as other than leading in the music awards, he also just released his new album, this twin-CD album include 13 new and unreleased songs, among them is 'Tai Xiang Ai' which is his first banned song and he specially arranged a dance to be perform for the song at his December 15 mini-concert.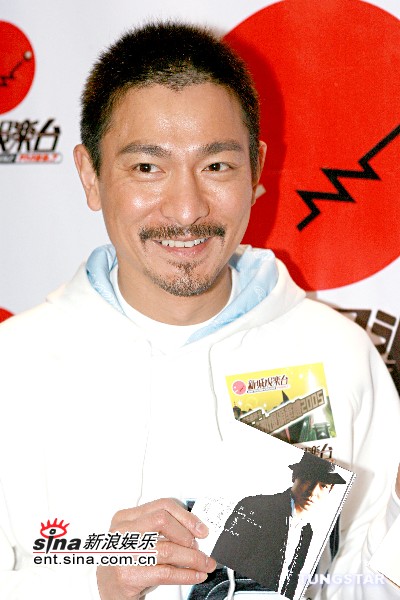 As Andy had a total box-office collection of HK$1,733,275,816.00, when asked what's his achievement for his singing? He expressed that he didn't calculate the total sales figure of his albums but he had released at least 100 albums. When asked what hope he had for his new album? He exclaimed that the music industry was suffering a downturn, his album being a twin-CD, he hope to have a double sales figure of a single CD album and he's confidence of it.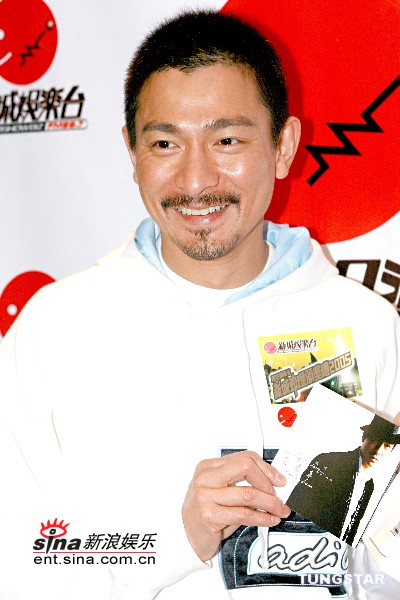 With regards to awards, he's most confidence of winning the Most Admired Hit Song award but having confidence doesn't mind winning. Furthermore, he could only sigh with his unability to attend the award presentation ceremony due to work committments which might cost him the award.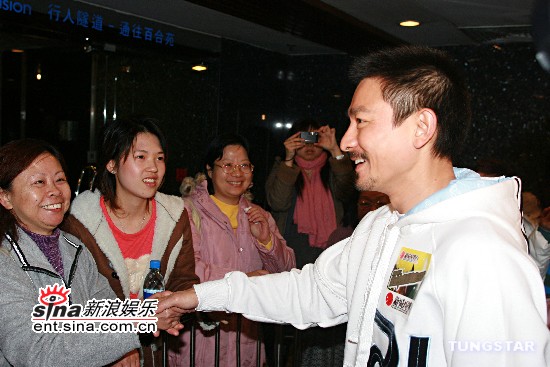 news from: Ta Kung Po, Wei Wen Po, Oriental Daily News, Sun News, Sina.com