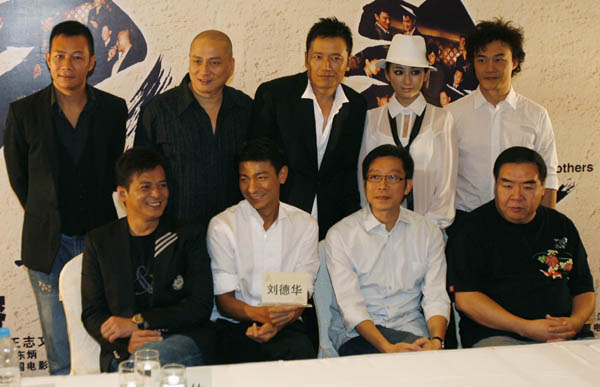 The press conference for Brothers was held at Guangzhou yesterday where Andy Lau, Lam Ka Tung, Michael Miu, Felix Wong, Kent Tong, Eason Chan, Huang Yi, Eddie Cheung, producer Kent Cheng and director Chiu Sung Kee were in attendance. It attracted media throughout the country to report on the event. The TVB 5 Tigers once wrote history in the TV scene, as Tony Leung unable to join the cast of this film had resulted in some allegations. With regards to it, Andy think that everybody had think too much and sing praise of Tony's performance in Lust,Caution but stressed that he would not be pressurize by the good box office collection of Lust,Caution but rather happy for Lust,Caution.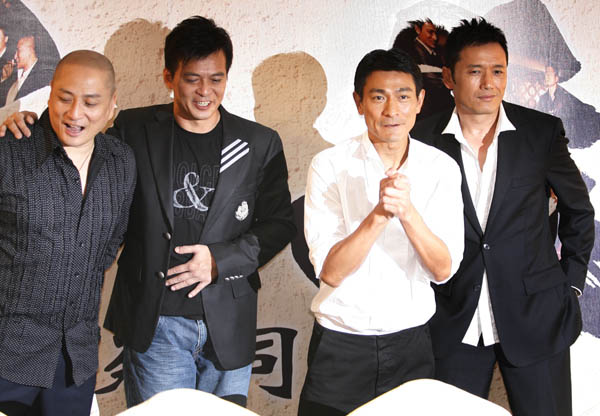 During the press conference, the eight males dressed in black and white, their good coordination dressing shows off their "brotherhood". This film is a gathering of the 4 TVB 5 Tigers, the absent of Tony allow the media to allege that the relationship of the Tigers are turning sour. Meanwhile, Tony's Lust, Caution is currently screening in Hong Kong, thus both films would compete each other in the box office, how does Andy looked at it? He said: "I'm happy that Lust, Caution is doing well in the box office, this shows that movies are still doing well in the box office. (Do you have any comments on Tony's acting?) Tony's acting is great, I admire his acting and courage, no everyone would accept such movie."
Andy revealed that he could have the chance to be cast in Lust, Caution as Lee Ang once told him that he would collaborate with Andy if he win Golden Horse Film Awards Best Actor. He said: "When the shooting of Lust, Caution started, he just won the Best Actor award at the Golden Horse Film Awards and I just read the original novel, I had a feeling that Lee Ang would approached me to take up the role of Mr. Yee but Lee Ang did not approached me as I thinks that Lee Ang understand me that I would not be so open minded as Tony because if I was shown the script that include such steamy scenes, I would sure reject him, I think Lee Ang forecast it."
With regards to his reluctant to take up steamy scenes, Andy answered the question with a brave front: "Everyone has their own bottom line, I like calligraphy, love stuffs related to Chinese tradition, thus I really could not be so open." Andy added that not only he's not dare to take up Lust, Caution, if there's one film that sure will earn him awards but too extreme, he would not accept it. He said: "I understand myself and dare to face it, everyone must be sure of what he can and cannot do." When dealing with allegations that being reluctant to take up steamy roles and pointed out as a poorer actor when compared with Tony, Andy does not mind such comparison as he said: "People can say all kind of things, but I'm very sure of my own position and what I can do."
Andy's relationship with Michael, Felix and Kent had not changed for the last 20 years, when reporters asked them how they maintain their brotherhood and friendship? This is the result of "PRO brother" Micheal as Felix exposed: "Among us, Michael is the elder brother while the others are younger brothers. He's the middleman of everyone, he has good public relation skills, all our gatherings are organized by him, thus he can be considered as PRO brother." Micheal also admitted that since artiste training classes, he's responsible for program planning, while the others have nothing to do at home, he would called us to check if we have any program. From the press conference, it can be seen that they get along well with each other.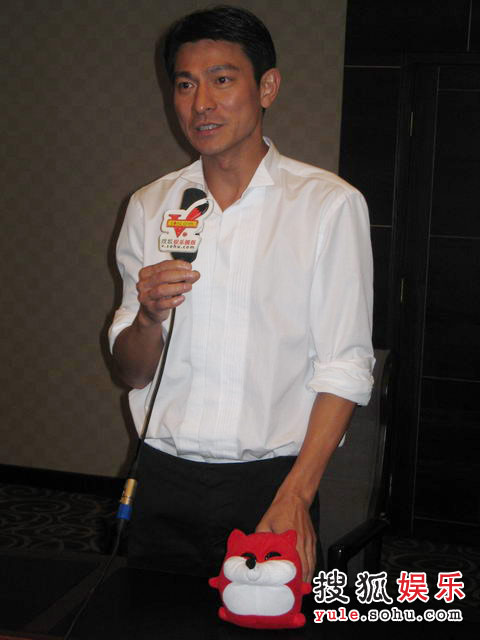 Other than acting in the film, Andy is also the investor for the film, he should be carrying quite a huge pressure, but he think that these brothers have their own career but they offer their help for this film, he's touched and delighted of their actions but he added that the box office taking is also very important. When asked how he looked at the box office of Brothers, he said: "With regards to the box office taking, I can still estimate for Hong Kong side, but I'm not so sure of the situation in Mainland China and Taiwan, it can be estimated by the distributor, but I think that Hong Kong can at least obtain between $8000,000 - 9000,000."
Ka Tung revealed that he did seek advice with Andy how to act out a policeman well, Andy told him that he's able to act out a policeman so well is because he had tried applying to be a policeman and was questioned by police before. Andy teaches Ka Tung in order to be a good policeman on film, must remember that in the eyes of the policeman, there is no good person in this world, you must faced everyone with a suspiciousness. Ka Tung said: "Actually when shooting Eagle Hunter, Andy attended classes at the police academy." Andy quipped: "Then TVB gave me a chance to apply for police, the instructor told me that one must be nosy, second is not to believe in anyone. Other than these, I was being asked to go to Criminal Investigator to help up in investigation, I personally witness how the police question me, sometimes the policeman are better than we actors!"
Andy said that when triads were involved in the Hong Kong showbiz, it was alleged that he was asked pointed to his head with a gun, thus the Criminal Investigator Department asked me to help their investigation, he said: "The policeman told me that even my manager admit that someone pointed a gun to my head, what else can I say but to reveal whom is the one pointing the gun to my head." Andy exclaimed that no such things happened, it's just a misunderstanding by the media, after many explanations, the police still does not believe him as the policeman told him in the end: "We even caught the one whom point the gun to your head, don't deny, please admit, say out the name." Andy sighed and told the policeman: "Really nobody pointed the gun to my head, what name could I tell you? Really nobody." At this point, the policeman told me: "Alright, you can go back now. Thanks for helping out our investigation." Andy said that the police didn't caught anybody, they are just acting during the questioning, they are suspicious that I'm hiding the truth, but nothing fruitful being found out then they believed that I'm telling the truth.
The premiere which was held at night had a very good response as all tickets had been snapped up thus delighting the group.
In addition, a 7-minutes clip of Three Kingdom - Resurrection of the Dragon was screened during the on-going Pusan International Film Festival, it included battles scenes between Andy and Maggie Q. According to sources, many European and Korean film distributors are interested in this film.
news from: Sina.com, Apple Daily News, Oriental Daily News, Ming Pao, Sun News, yule.sohu.com